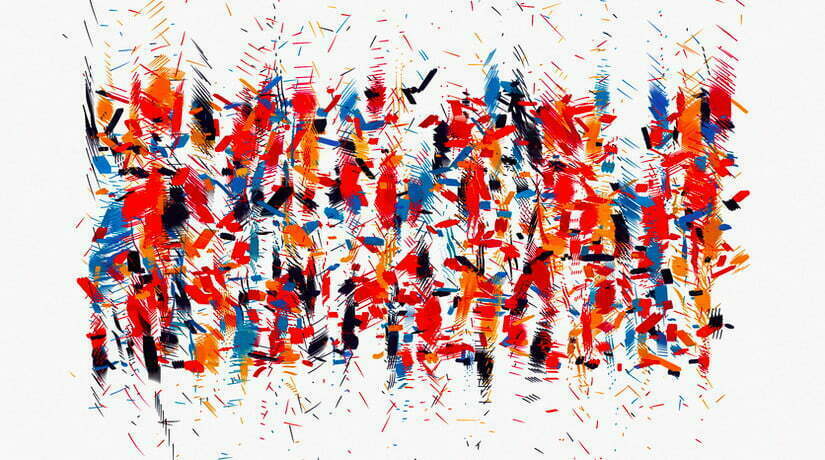 Stefano Contiero, Armonia VI, 2022
How did you first get into making art and in particular generative art?
I was surrounded by art pretty much all my life. Art is everywhere in Italy, while my Dominican family has more than one painter and crafter. In a certain way, I've been making art unintentionally all my life. With generative art, the beginning was more casual. I woke up one morning and said to myself: I'll learn generative art. Little did I know at the time that I was going to find my passion and vocation.
Which artist inspires you the most in your practice?
Fellow generative artists are a constant source of inspiration. And particularly people like Tyler Hobbs, Manoloide, and Ben Kovach played a big part when I was starting in generative art.
I'm no art expert, but if I think of some artists from the past, the ones that come to my mind are Monet and Van Gogh, and Pollock and Rothko.
Do you see the traditional art world and the NFT world connecting more and more in the future, or will they always be two different spaces?
I definitely see the two worlds connecting more and more, until they merge. I believe that in a few years whether something is an NFT or not will become irrelevant. NFTs and the blockchain are the perfect ways to prove the authenticity, provenance, and ownership of something. This can bring plenty of advantages to traditional art, reducing the risk of forgery and making the history of any artwork easier to identify.
Tell us more about your series Armonia, where did you take inspiration?
Everything started with Herman de Vries' "from under a sassafrass tree midlandpark". The way the piece captures nature in so many different ways suggested to me to look into the wilderness for inspiration. I went for a long walk in the countryside. One thing that stuck with me is how nature and all its elements coexist. Everything has its own life, its own history, and its own frequency. And yet, in this chaos, everything is in perfect harmony
Is there anything else you'd like to share to help people better understand your art?
Learn how to look with your heart.