A world without art would be that like a sky in the night without the lights of the stars.
They appear like meteors ideas fully unexpected – only a few people see them.
Paintings and sculpture are planets of the sun and make you forget the black depths of the night from which they arise.
A world without art would be a gray world between day and night, in which time stands still, in an empty room, without shadow, but also without light.
Art expresses that a gray world would be unbearable.
(Heinz Mack)
The entire Mack's work has always been focused on the fundamental role played by the light as a constitutive element of vision which he turned into the key of a poetic language able to radically modify the base of the modern art.
For Mack, light, transparency and refraction provided the tools for crystallizing and manifesting a circumscribed but absolute territory, in which only their intrinsic, universally iconic qualities emerge as the catalysts of an autonomous new entity that draws its power and raison-d'être from the image's vibration in space, as if it were a part of the real, at the mercy of the real world.
​The identity between light and color has been transformed into shapes of dialectic and active relationship such as structure, vibration, rhythm and it also constitutest he central element of the continuity and of his work's metamorphosis.
The liminal zone of colour – between light and darkness – is what Mack considers the germinal place of vision, which led to the major transition of 1991, when the artist began to focus on a new painterly practice translating his intuitions for the redefinition of surface and space into a surprising new chromatic approach. This is how the monumental "Chromatische Konstellation" ("chromatic constellations") were made: an impetuous painting, made of pure colors, free from any naturalistic or descriptive element rather the unfolding of the luminous spectrum as a distillate of thought and energy.
​The continuity between the two creative phases also emerges from the words of the artist himself, who considers both of these creative moments as expressions of what we might define his "luminous vocation": "Just think of the phenomenal richness and the diversity of colours whose nuances we can see. This happens within universal nature, hence in the micro- and the macrocosm as well. As always – and here too – scholars attempt to comprehend the underlying principles and laws, whereas the layperson and the artist are the first and the last to be fascinated by beauty, thereby considerably challenging our perceptions and emotions. The happiness I derive from colours cannot be replaced with anything else. A change of light – it can be warm or cold, clear or opaque, hard or soft, shady or bright – invariably changes the colours. Interestingly, here, the black-white duality plays a role as well, wherein the colours appear to be 'latently' hidden. In this regard, I share your interest in the non-colours. I discovered early on that plenty of experience is required before a painter is capable of painting a picture exclusively with the so-called non-colours, which are indeed also light colours. I ought to point out here that for me the non-colours are adequate colours. In fact, they have their own privilege within the large colour concert. Black can never be black enough! Just as white can never be too white".
Artist's Writings, The New Dynamic Structure
When we talk about painting we are talking about colour.
First, last, and always, the ultimate significance a colour can achieve is that it fulfils its own unique creative function; only then can it attain its freedom, its greatest intensity; colour is itself!
If I set one colour in contrast to another, I may possibly intensify the first, but at the same time I am restricting its freedom, because there is a governing relationship between the degrees of intensity and dependence.
A colour can have several meanings. However, its virtual objectification, i.e. its intrinsic energy, is achieved when it strikes its own vibration; that is its life, its breath. (Leonardo da Vinci or Mondrian, for example, sought the "balanced relationship" between different colour spaces, not colour contrasts.).
The "possibility of expressing one colour by all colours" must be contrasted with the possibility of expressing all colours through one colour. This idea makes sense only because it is possible to bring one colour into play so that it becomes completely self-sufficient.
We can achieve such intensity of colour vibration through a continuum of deviations from an ideal monochrome, or through a continuum of graduated value of the same. The primary condition for vibration of colour is that some elements remain stable throughout chromatic modulation; in this way colour is given its freedom.
I impart vibration to a colour, i.e. I give the colour structure, or I give the colour its form.
(Heinz Mack, "Die Neue Dynamische Struktur", ZERO, No. 1, Düsseldorf, 1958, pp. 1)​
Thanks to an exclusive video recorded in his studio in Ibiza, Heinz Mack allows us to make a further step into his artistic world and to explain to us how he is facing this challenging time. The artist, alongside the Archive, give us the opportunity to have a preview of his sculpture collection which spread over the park surrounding his studio.
Courtesy Archive Heinz Mack
From the very beginning, in his Dynamische Strukturen of the late '50s, Mack made vibration the mobile, vital, founding element of his works, laying a linear black-and-white grid over the picture plane. The visual space seemed fragmented and almost in evolution, substituting a vision of the whole with a dynamic vision that prompts the gaze to follow its contemplative, decelerating movement, bound to the matter that forms it and its relationship to the light that falls on it.
Dynamische Form, Schwarz, 1959
oil and resin on canvas
90 x 75 cm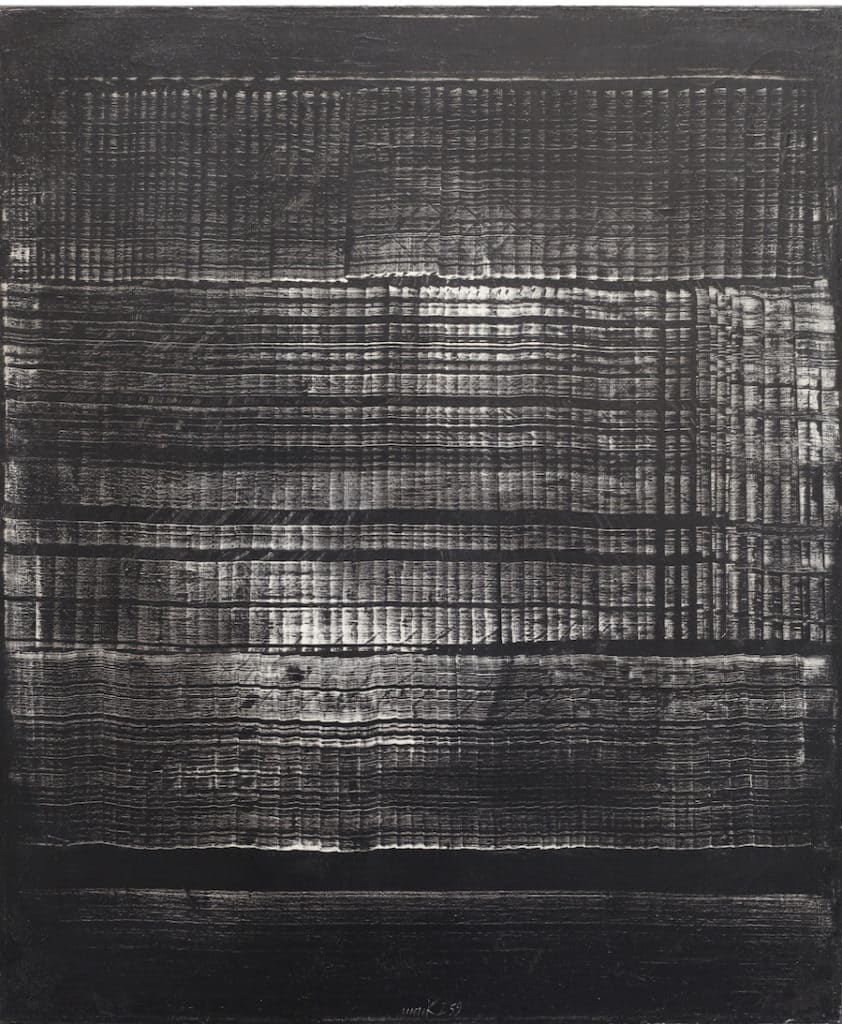 Dynamische Struktur in Schwarz (Dynamic Structure in Black), 1962
synthetic resin on nettle
129.5 x 170 cm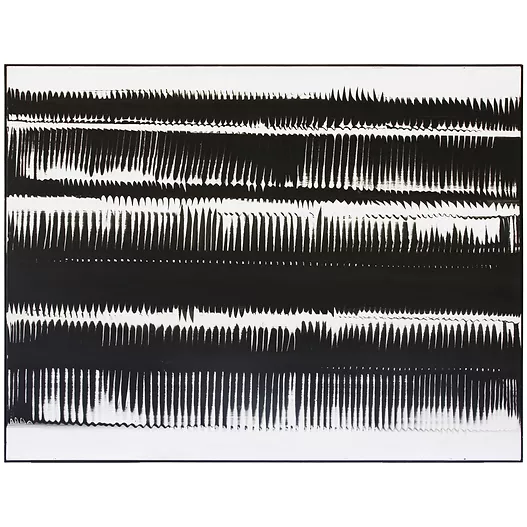 In the Lichtrelief series of 1958-59, Mack puts traditional painting practice further behind him, stamping another grid, this time in relief, onto aluminum sheets over a wooden frame; this creates a monochrome surface off of which the light reverberates, becoming a glittering field of action that is constantly shifting and changing, mobile and undefinable within space.
Lichtrelief (Light Relief), 1961
aluminium relief on board
91.5 x 73 cm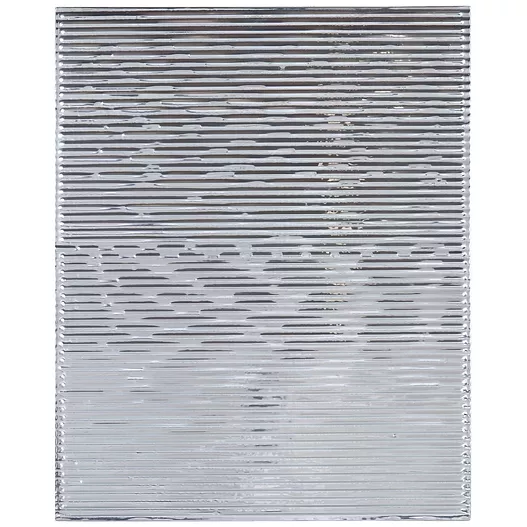 Light and its antitheses, darkness and shadow, have always been the poles around which the german artist Heinz Mack experience unfolds, looking to express the vibration of life. This dynamic vision is highlighted and explored even more in the "Lichtrelief" series of 1958-59. As the artist himself described it, by extending the grid, in place of form, we now find structure as the diagram of a process, an oscillating field of visual energy that is material and immaterial at the same time.
These key concepts are then well implemented in this work from the work complex of "Flügel" artworks, for the interplay of the filigree wings, executed in a honeycomb structure, in front of the bright background evokes remarkably optical impressions that vary from perspective to perspective.
All his work of art is based on these interactions with light modelled around the phenomena of refraction and reflection.
Erzengel Michael und Gabriel (Archangel Michael and Gabriel), 1972
aluminum, acrylic glass and stainless steel
181.4 x 141.6 x 20.8 cm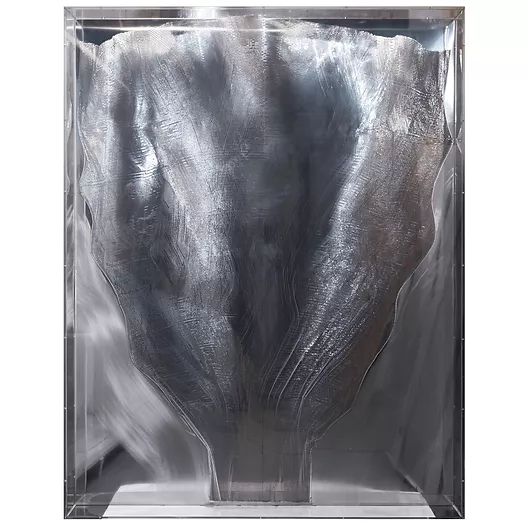 Chromatishe Konstellations
It is from the liminal area of the color, between light and dark, considered by Mack the germinal place of the vision, that get started his great transition of 1991. When the artist starts focusing on a new pictorial work that translates his intuitions of redefinition of the surface and the space into a new and surprising chromatic key.
​This is how the monumental Chromatische Konstellation (chromatic constellations) were made: an impetuous painting, made of pure colors, free from any naturalistic or descriptive elementrather the unfolding of the luminous spectrum as a distillate of thought and energy.
Daphne und Chloe (Daphne and Chloe), 2002
acrylic on canvas
235 x 284 cm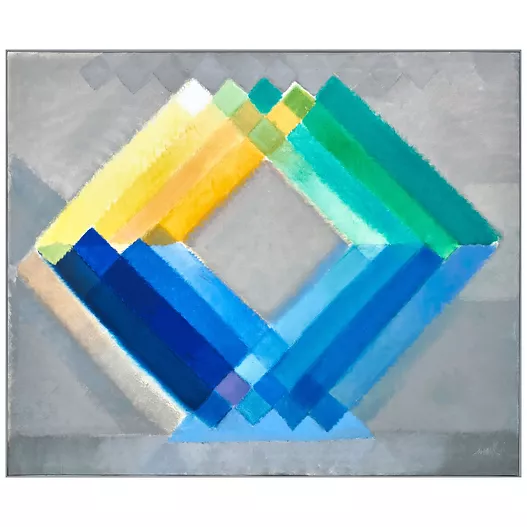 Untitled (Chromatic Constellation), 2018
acrylic on canvas
89.5 x 100.5 cm (+ Wooden frame: 91.5 x 102 cm)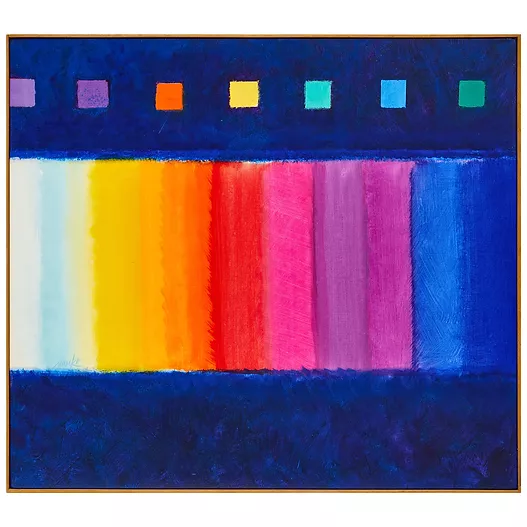 Sea Flag I (Chromatic Constellation), 2015
acrylic on canvas
77 x 77 cm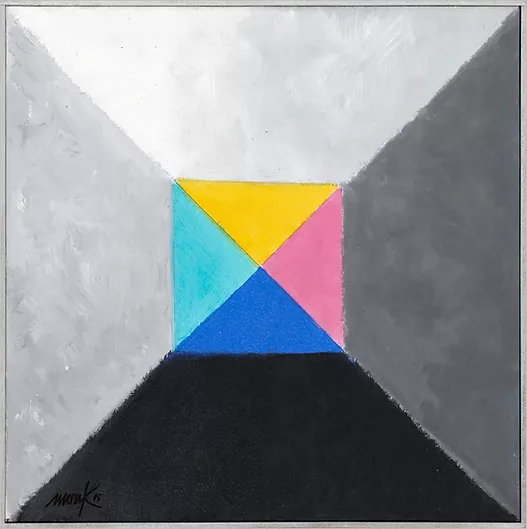 Untitled (Chromatic Constellation), 2018
acrylic on canvas
77 x 75 cm