The Peruvian artist Jorge Eielson (Lima, 1924 – Milan, 2006) is a pivotal figure in the twentieth-century art, whose importance is gradually garnering international attention. This exhibition at Cortesi Gallery, curated by Francesca Pola, is Eielson's first solo show ever presented in London and in the United Kingdom. The exhibition, realised in collaboration with the Archivio Jorge Eielson and with the Centro Studi Jorge Eielson in Florence, brings together a series of highly significant examples of his work, to retrace the key stages in his creative career.
Poet and writer, even before than visual artist, Eielson has always explored forms of artistic communication that deliberately express the contamination and the dialogue between different specificities and cultures, beyond assimilated conventions and established practices. The experimental and radical dimension of his work led him to condense the different aspects of his creativity into his essential artistic works, without renouncing to a narrative and symbolic dimension.
The exhibition begins with the rarefied and informal materiality of its Paesaggi infiniti della Costa del Perú (Infinite landscapes of the Peru Coast), to move on to a series of works in which the object collection is revisited and assimilated into the painting: fabric and clothing (shirts, trousers, hats), that are ripped, burnt, cut and mixed with material surfaces. These are the results of his first Parisian stay in 1948, where thanks to a scholarship provided by the Peruvian government Eielson established connections with the great international avant-gardes (he will return to Paris twenty years later). And then of the even more decisive stay in Rome that, from 1951 proves to be herald of crucial steps in the maturation of his very personal visual idiom, which also evolved during his relocation in Milan starting from the Seventies. In order to recreate the context where his artistic maturation took place, the exhibition features works by some Italian artists, which seem particularly revealing of the multiple identities of Eielson's work: research on matter, sign and spatiality of the form, exemplified by artists like Lucio Fontana, Giuseppe Capogrossi, Salvatore Scarpitta, Enrico Castellani, Agostino Bonalumi.
In 1963 Eielson produces his first "Quipus", an element that became, since then, a distinctive pattern of his artistic language: the torsion and tension of the fabric, which is articulated in knots inspired by the "quipus", the ancient language of the pre-Colombian Incas of Peru, but in which Eielson concentrates multiple meanings of different cultures and origins, transforming it into a sign of transcultural and global communication. In the same way, unlike contemporary movements such as the Nouveau Réalisme or the Neo-Dada, the object element is never used by him as an index or sample, but as a suggestion and reflection of humanity. Similarly, the large spaces of his monochromatic pieces are structured in geometric shapes activated by the Quipus knots, which decline the idea of the shaped canvas in a strongly personal and suggestive direction, enriched at the same time with memory and with an inner physical energy. It is a performative and temporal dimension inherent to the work of Eielson, which is also found in his installations with variable content, such as the Poema escultòrico from 1979-80, or his live performances, like the well-known one he presented at the Venice Biennale in 1972.
The London exhibition presented at Cortesi Gallery intends to emphasize this persuasive relevance of Eielson's poetics in its global communicative dimension, also proven by being a source of inspiration for the Peruvian pavilion at the last Venice Architecture Biennale in 2018. The latter was characterized by an installation of 250 square meters, with an entrance panel featuring 447 knots representing the 447 "huacas" present in Lima, creating a dialogue between architecture and environment, and between memory and modernity. The exhibition is accompanied by a bilingual catalogue (Italian/English), published by Skira, which includes an essay by Francesca Pola, images of all the exhibited works, installation views, and a bio-bibliographic appendix. Based on extensive art-historical research, the catalogue offers a more complete overview of Eielson's work and is meant to stimulate further international studies.
---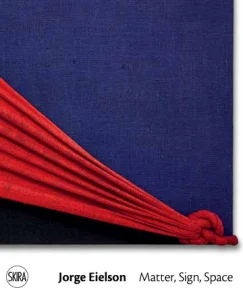 Catalogue curated by Francesca Pola.
Exhibition Coordination: Andrea Cortesi, Lorenzo Cortesi, Gala Kalchbrenner, Ottavia Fontana, Camilla Romeo, Federica Rigitano.
Publisher: Skira Editore, Milano
---